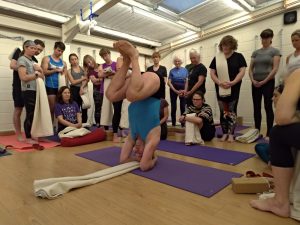 Alaric is offering regular asana tuition as follows:
Weekly Intermediate Asana Classes (In-person)
23 MARCH – 20 APRIL 2022
Wednesdays 14:00-16:00
Iyengar Yoga Maida Vale, 223a Randolph Avenue, London W9 1NL
Tel: 020 7624 3080 | Email: office@iyi.org.uk
Members £16 / Visitors £18
Please note that this is a studio class only with no livestream access.
Suitable for students with at least four years' training in Iyengar yoga, who can maintain a stable Sirsasana and Sarvangasana for at least five minutes and who have established an independent practice. Book online via the Maida Vale website.
---
Monthly Asana Workshops (In-person and online)
First Sunday of the month, 16:00-19:00
Yogaloft Beethoven St, 27 Beethoven Street London, W10 4LG
Tel: 020 7625 2645 | Email: info@yogaloftlondon.com
Studio Price: £40 | Online Price: £20 (or pay what you can for online)
Alaric will be teaching in person in the Beethoven Street upstairs studio, and the class will be live-streamed. Those in the studio will be demonstrated on to create effective online learning. In order to attend you must have minimum 3 years of yoga experience.
---