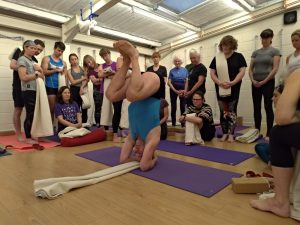 Alaric is offering regular asana tuition as follows:
Weekly Intermediate Asana Classes (In-person and online)
Wednesdays 14:00-16:00
Iyengar Yoga Maida Vale, 223a Randolph Avenue, London W9 1NL
Tel: 020 7624 3080 | Email: office@iyi.org.uk
Studio Price: £15 | Online Price: £12
Suitable for students with at least four years' training in Iyengar yoga, who can maintain a stable Sirsasana and Sarvangasana for at least five minutes and who have established an independent practice. Book online via the Maida Vale website.
---
Monthly Asana Workshops (In-person and online)
First Sunday of the month, 16:00-19:00
Yogaloft Beethoven St, 27 Beethoven Street London, W10 4LG
Tel: 020 7625 2645 | Email: info@yogaloftlondon.com
Studio Price: £40 | Online Price: £20 (or pay what you can for online)
Alaric will be teaching in person in the Beethoven Street upstairs studio, and the class will be live-streamed. Those in the studio will be demonstrated on to create effective online learning. In order to attend you must have minimum 3 years of yoga experience.
---
Monthly Asana and Pranayama Workshops (In-person and online with 7-day recording access)
Saturday 22 January, 19 February and 12 March | 15:00-17:00
triyoga camden, 57A Jamestown Road, London, NW1 7DB
Tel: 020 7483 3344 | Email: hello@triyoga.co.uk
Studio Price: £30 | Online Price: £20
These workshops, open to all who have a minimum of three years' asana experience (of any style), will give you a systematic and thorough introduction to how asana brings about pranayama, and how pranayama can be experienced within asana.
This month he focusses on how standing postures make back bends possible. Back bends are known as Purva Pratana Sthiti meaning "postures that spread and extend the front of the body". When these gestures are experienced within the standing postures the process of 'bending backwards' becomes more accessible and satisfying.
Alaric teaches in an engaging and lively manner with the precision and alertness that Iyengar yoga is renowned for. As with each workshop, he will show how all asana can make possible effective breathing (pranayama), focus (dharana) and absorption (dhyana).

Please take a NHS rapid antigen test and only attend in person if you have a negative result.